CACCINI'S EURIDICE & THE ART OF RECITAR CANTANDO
MANDAG DEN 13. OKT - FREDAG DEN 17 OKT. KL. 10.00 - 16.00

Det Kgl. Danske Musikkonservatorium, Rosenørns Allé 22, Frederiksberg
INDHOLD: Masterclassen vil sætte fokus på deklamations kunst og den specielle form for tale-sang - recitar cantando - som Caccini beskriver i sin bog Le Nuove Musiche fra 1601, i kombination med grundlæggende dramatisk gestaltning og barokgestik. Ambitionen er at omsætte i praksis det som teoretikerne af recitar cantando beskriver og for at prøve at forstå deres tankeprocess vil vi arbejde med udgangspunkt i den talte tekst for at ad denne vej finde frem til recitativet.
INSTRUKTØRER: Marco Horvat (fr), Deda Cristina Colonna (it).
DELTAGERE: Sangere og continuspillere.
NIVEAU: Professionelle og musikstuderende.
REPERTOIRE: Primært Caccinis opera Euridice, men evt. også Peris opera med samme navn, samt sange fra Caccinis Le Nuove Musiche.
STEMMETYPER: Alle stemmer. - VI MANGLER TENORER OG BASSER
INSTRUMENTER: Lut, theorbe, cembalo, harpe, gambe, mv.
NODER: Deltagerne vil få udleveret noder efter bekræftet deltagelse (moderne + facsimile).
KONCERT: Kurset afsluttes med en offentlig koncert fredag den 17. oktober kl 15.00

PRIS: 900 dkk / 450 dkk for studerende ved DKDM.
TILMELDING med kort CV sendes til: festival@renaissancemusik.dk
>>Tidsfristen for bindende tilmelding er forlænget til 1. oktober.
>>MANDSSTEMMER kan stadig ansøge NU.
Maximum ca. 10 sangere / 5 continuospillere.
Kurset foregår på engelsk

Arrangeret i samarbejde med Det Kgl. Danske Musikkonservatorium

PDF in english can be downloaded HERE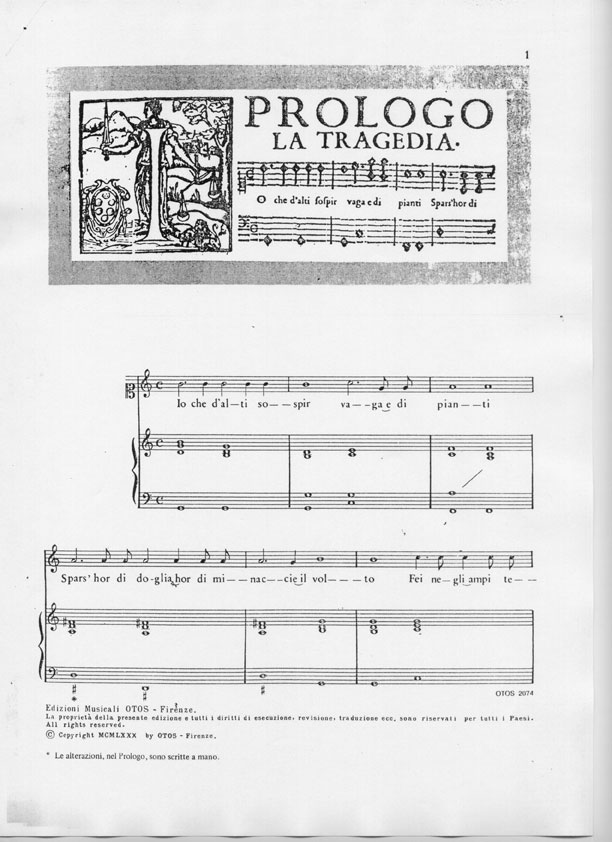 Marco Horvat is an instrumentalist as well as a singer, capable of accompanying himself on lute, theorbo, lira, fiddle and other instruments.
He studied medieval and Renaissance music at the Schola Cantorum Basiliensis with Dominique Vellard and Bob Crawford Young. He also studied carnatic music, the classical music of Southern India, for four years in Bombay and Madras under Aruna Sayeeram.
In the last fifteen years, as singer, instrumentalist, or both, he has performed with such major ensembles as La Chapelle Royale, Ensemble Jacques Moderne, La Simphonie du Marais, Ensemble Gilles Binchois, Alla Francesca, Labyrinthe, La Canzona, Amadis, la Grande Ecurie et la Chambre du Roy, XVIII-21 Musique des Lumières, Akademia, Ensemble William Byrd, Le Poème Harmonique and Huelgas Ensemble.
As a soloist he has given recitals in Europe, India, Singapore and Brazil.
In 1996, Marco Horvat founded Faenza, an ensemble specialised in medieval, renaissance and early baroque music. The group has performed in various French festivals and in Berlin, Munich, Frankfurt, Sao Paolo, Rio de Janeiro, Campinas and Recife.
Directing ensemble Faenza, he recorded three CDs with the French label Alpha, "Il Giardino di Giulio Caccini," a recital of Florentine music (2003), "La Semaine Mystique", parodies of french Airs de Cour (2005), "Les Musiques de l'Astrée", French Airs de Cour (2008).

Deda Cristina Colonna graduated in ballet from Istituto Musicale Brera di Novara and Ecole Supérieure d'Etudes Chorégraphiques in Paris. She holds a degree in dance from the Sorbonne, where she specialized in Baroque Dance and Italian/French Renaissance Dance. Later she graduated from the Acting School of Teatro Stabile di Genova and she worked as a soloist and guest choreographer with The New York Baroque Dance Company.
She acted in various productions ranging from Shakespeare to Cechov and Genet, in Italy, France and Germany.
Deda Cristina choreographed the dances and the baroque gestures of many operas and ballets, especially of the baroque and classical repertoire, working with directors as Pier Luigi Pizzi (Teatro alla Scala, Teatro San Carlo di Napoli, Teatro dell'Opera di Roma, Teatro Lirico di Cagliari, Teatro delle Muse di Ancona, Teatro Real in Madrid, Rossini Opera Festival a.o.), Guido De Monticelli (Teatro dell'Opera di Roma, Festival della Valle d'Itria), Antonio Latella (Opéra de Lyon, Teatro Piccinni di Bari, Arena Sferisterio di Macerata). She was Pier Luigi Pizzi's assistant for numerous productions.
She teaches baroque dance and acting at the Nuova Fabbrica dell'Opera Barocca in Novara and has held courses and masterclasses at Ohio State University Department of Dance, Scuola Civica di Milano and numerous Conservatories in Italy and is now the Director of the Dance School of Civico Istituto Brera in Novara.
She has recently begun her career as a director-choreographer, mainly staging works from the baroque repertoire such as "Mulier Fortis" by J.B. Staut, "La serva scaltra" by J.A. Hasse, "Il ritorno di Ulisse in patria", "L'Orfeo" and "L'incoronazione di Poppea" by C. Monteverdi, "La liberazione di Ruggero dall'Isola di Alcina" by F. Caccini, "La Diana Schernita" by G. Cornacchioli, "The Fairy Queen" by H. Purcell and "Così fan tutte" by W.A. Mozart.
Her research on baroque dance was published in the proceedings of numerous international conferences.